Destinations weddings are quickly becoming a force to be reckoned with. Where it used to be rare to hear about a bride and groom getting married abroad, today it is becoming quite common. For many couples, it's a way to tie a fabulous vacation in with their wedding, and often it's much cheaper than holding a traditional wedding in their home country.
There are plenty of destinations that are known to be popular wedding spots, with Mykonos, Greece being one of them. If you've recently decided Mykonos is the right destination for your wedding and need some help getting started, here are some planning tips you can make use of.
Give Guests Plenty of Notice
Because a wedding in Mykonos is a rather large deal that requires your guests to do a lot of planning on their end, you want to be sure that you give them plenty of notice. It's a good idea to send out a "save the date" cards as soon as you've picked the date. The official wedding invitations can follow at a later time. The "save the date" just allows you to give your guests that extra bit of notice, which can make the difference between them being able to attend or not. As well, you don't have to include many details other than the official destination of Mykonos and the date.
Book Accommodations
The next step should be to book the accommodation. You may want to look at the options available through BlueVillas Collection, as they have all different sizes of villas, which are perfect for your wedding in Mykonos. You can have your entire bridal party staying in one villa, immediate family in another, and you and your groom in a private villa all your own. BlueVillas Collection is known for its extensive offerings as far as location and size.
Once the accommodations are booked, you are probably ready to send out your official wedding invitations. Make sure to include all accommodation details so guests can follow up on their own.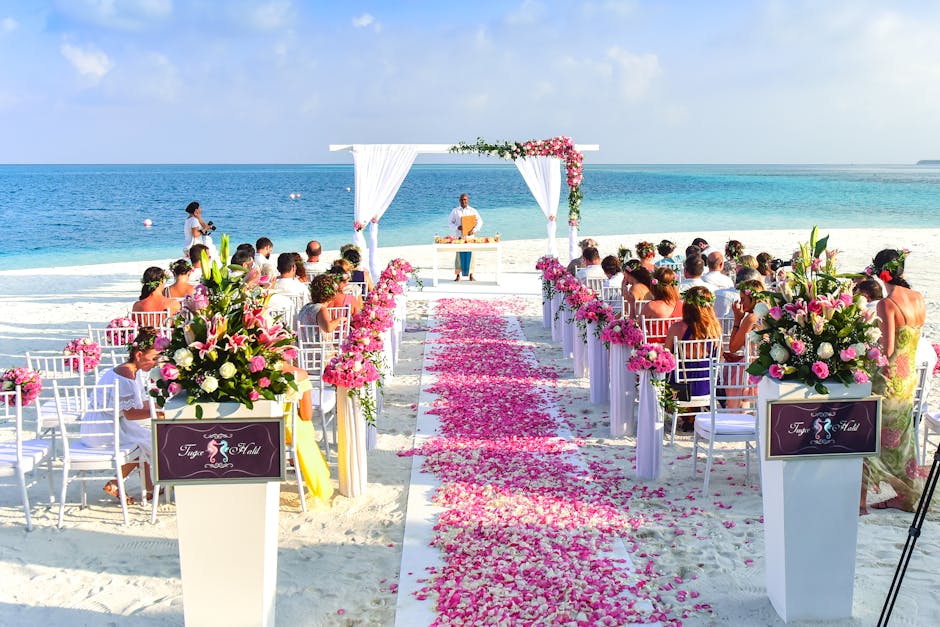 Look at Non-Traditional Wedding Ceremony and Reception Venues
Since you've decided on a destination wedding, why not take advantage of that destination's natural beauty and sights and opt for a non-traditional ceremony and reception space. You can work with a travel agent or wedding planner to help you pick and book the ideal venue. Some places also offer all-in-one packages that include such things as décor, flowers, food, beverages, and music. This can help to make the planning much easier on your end.
Before you pick a spot, you may also want to spend a little time doing some online research and reading reviews from other couples. It's always a good idea to take ideas with a grain of salt, but they can still prove to be quite helpful.
If possible, it's also a good idea to visit the destination in advance and do your planning and research in person.
Plan Activities for Guests
Obviously, the wedding is the big event of the vacation, but you'll also want to keep your guests in mind and what they will be doing with their time in Mykonos. Why not plan some group activities such as a sightseeing tour, a couple of meals at local restaurants, beach time, etc. Going this extra mile helps to show guests how appreciative you are that they made the journey.
The Wedding of Your Dreams
These tips are sure to help you work through the planning process involved in a destination wedding so that you can have the wedding of your dreams and your guests will have the time of their lives.